Yard Sign Rentals Indianapolis, Indiana
The Best Birthday Yard Signs In The Indianapolis Area
Order-by-Date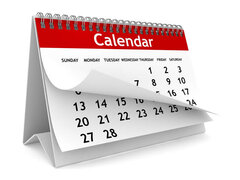 All Yard Signs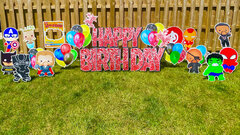 Graduation Yard Sign Rental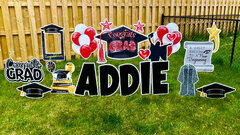 Yard Sign Rentals Word Set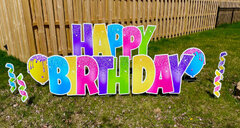 Create Your Own Yard Sign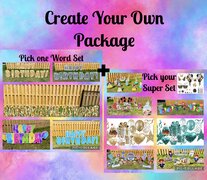 Graphic Options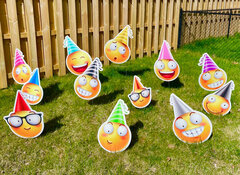 Pre-Made Sign Sets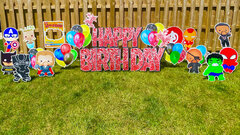 All Word Sets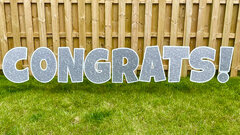 All Graphics Flair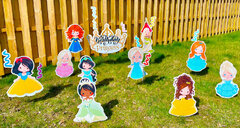 How Do I Book A Yard Sign Greeting?
Step 1 - Choose Your Word Set
Browse Through Our Large Selection of Word Sets to Match The theme of what you are Celebrating! We have Many Celebration Themes to Choose From, such as a Birthday, Retirement, Graduation, Baby Shower, Gender Reveal, and More!

There are so many colors to choose from! Choose Your Favorite Before Step 2!
Step 2 - Choose Your Flair
Pick Your Favorite Theme for Your Yard Sign Greeting! There are 3 Categories to Choose the Right Type of Graphic Flair for Your Party! We offer Small Sets, Large Sets, and to Wow the neighborhood, Our Signature Super Sets are Sure to Get Attention! From Superheroes and Princesses to TV Character Inspired and Boozy Beverages, We have a wide variety to capture the interests of any Age! Add as much Graphic Flair as you Would Like to Make Your Yard Sign Rental in Indianapolis Unique Truly!
Once you add your Word Set and all the Graphic Flair Your Heart Desires, you are able to Check out! All orders with 1 Word Set + 1 Large or Super Set Include the person you are Celebrating's Name!
A $50 Dollar Deposit is all you need to hold your Signs Design and Date! The full Payment will be Due the Day Before we are scheduled to deliver your sign! Book Now To Reserve Your Yard Sign Greeting Design in Indianapolis!
Pre-Made Yard Sign Rentals
The Perfect Addition to Your Indianapolis Family Event is Our Pre-made Yard Signs Greeting Rentals! Our Customers Love Our Pre-Made options for their Special Occasions because of How Easy It is to Pick Your Theme and Book Online! All Of Our Pre-Made Packages Include A Name or Age that you can Add to Honor The Person You are Celebrating and vivid Colors. A Yard Signs Greeting Rental is the Perfect Way to Show Someone How Much You Love and Care About Their Special Day! Birthdays, Graduations, Gender Reveals, Retirement, Anniversary, or Just Because, A SMart Yard Sign Rentals is the Best Way to Show Your Enthusiasm!
Pre-Made Yard Sign Rentals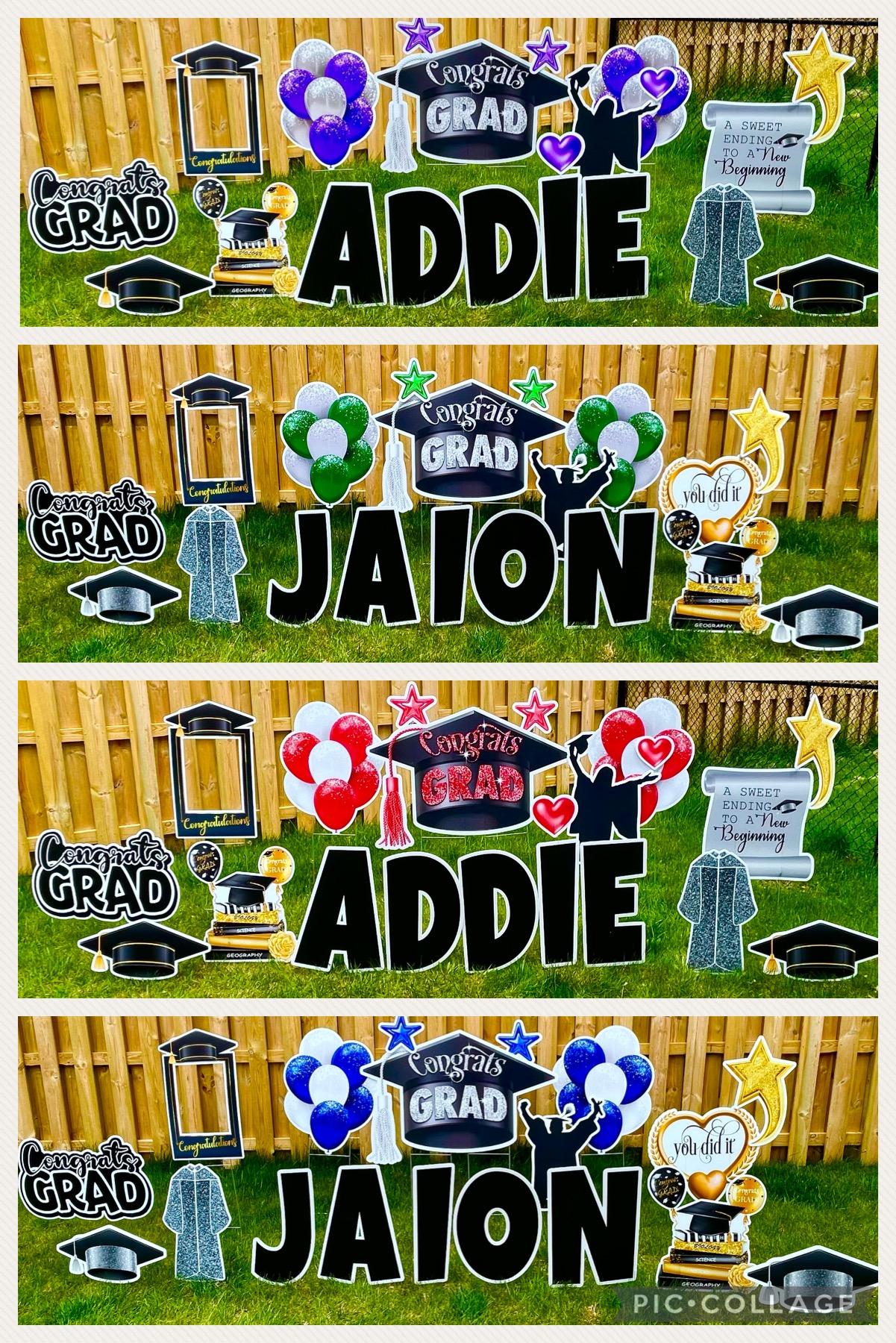 Graduation Yard Sign Rentals
For your Graduation Party, We will WOW your guests with our Yard Sign Packages! Our yard sign rentals are a very popular addition to a party. Smart Yard Signs has you covered when your special someone's day comes, whether it is a graduation for your teenager or your little one. We offer the Best Graduation Yard Signs in the Indianapolis area. You can get a standard Graduation Congratulations Sign or add more flair for that special someone who is celebrating their special day. Graduation Sign Rental Packages are the best way to show your guests where the party is at! Make the Smart Decision and go with Smart Yard Signs for your next party or event.
Graduation Yard Sign Rental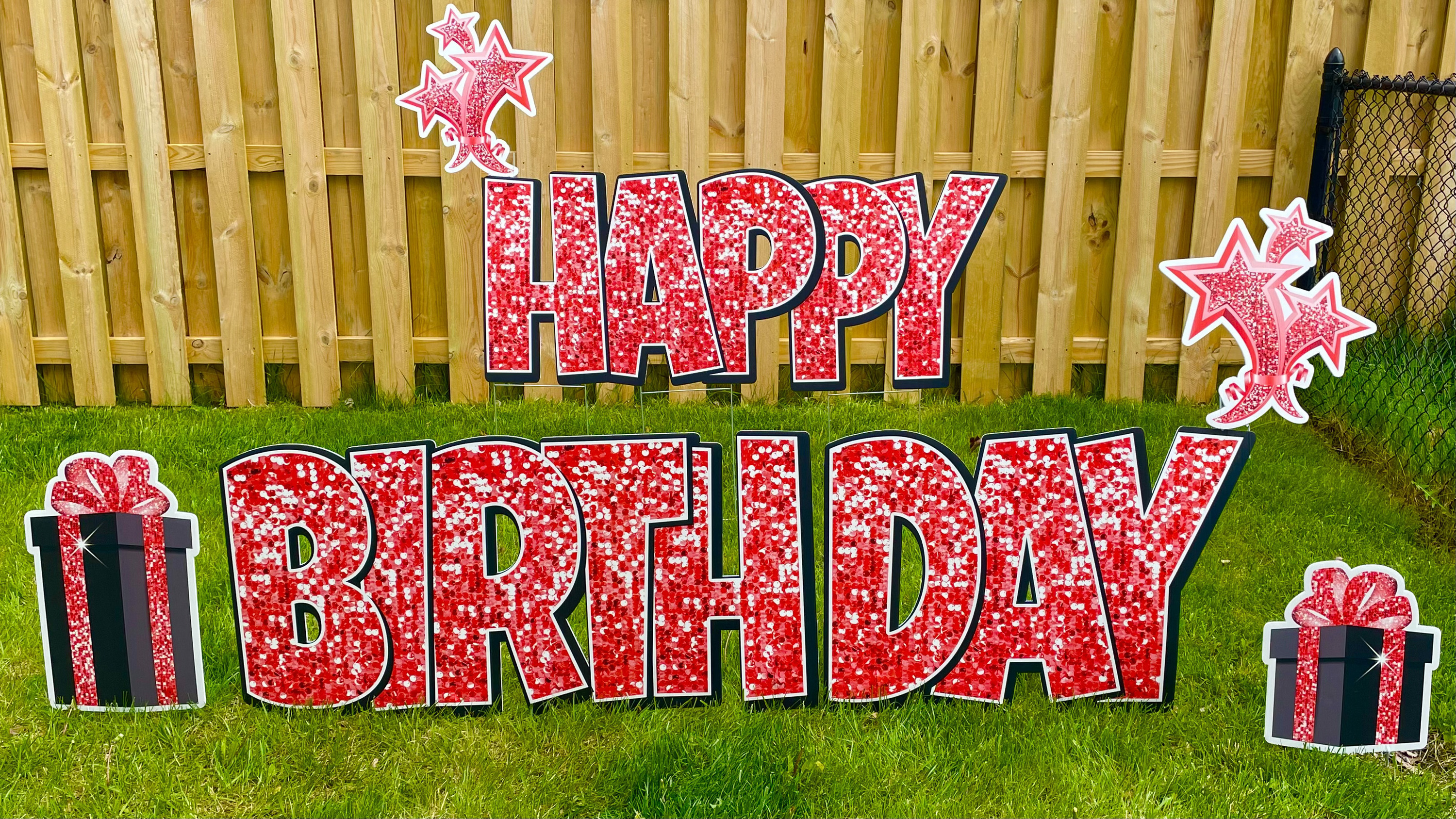 Happy Birthday Yard Sign Rentals
Ensure your party does not go unnoticed in the Indianapolis area! When it comes to Happy Birthday Yard Signs Rental in Indianapolis, Indiana, and surrounding cities. SMart Yard Signs is the best option for your event. Birthday Yard Signs are a great way to ensure your guests arrive at the Main Event. When it is your special someone's big day, ensure the celebration becomes a memory that will last a lifetime. When guests arrive at your Special Event, they will be greeted by one of SMart Yard Sign's Fabulous Birthday Displays. We offer the best selection of Yard Cards and Greetings to impress your guests. Make the SMart decision and click the link below to reserve your yard sign and today!
Happy Birthday Yard Sign Rentals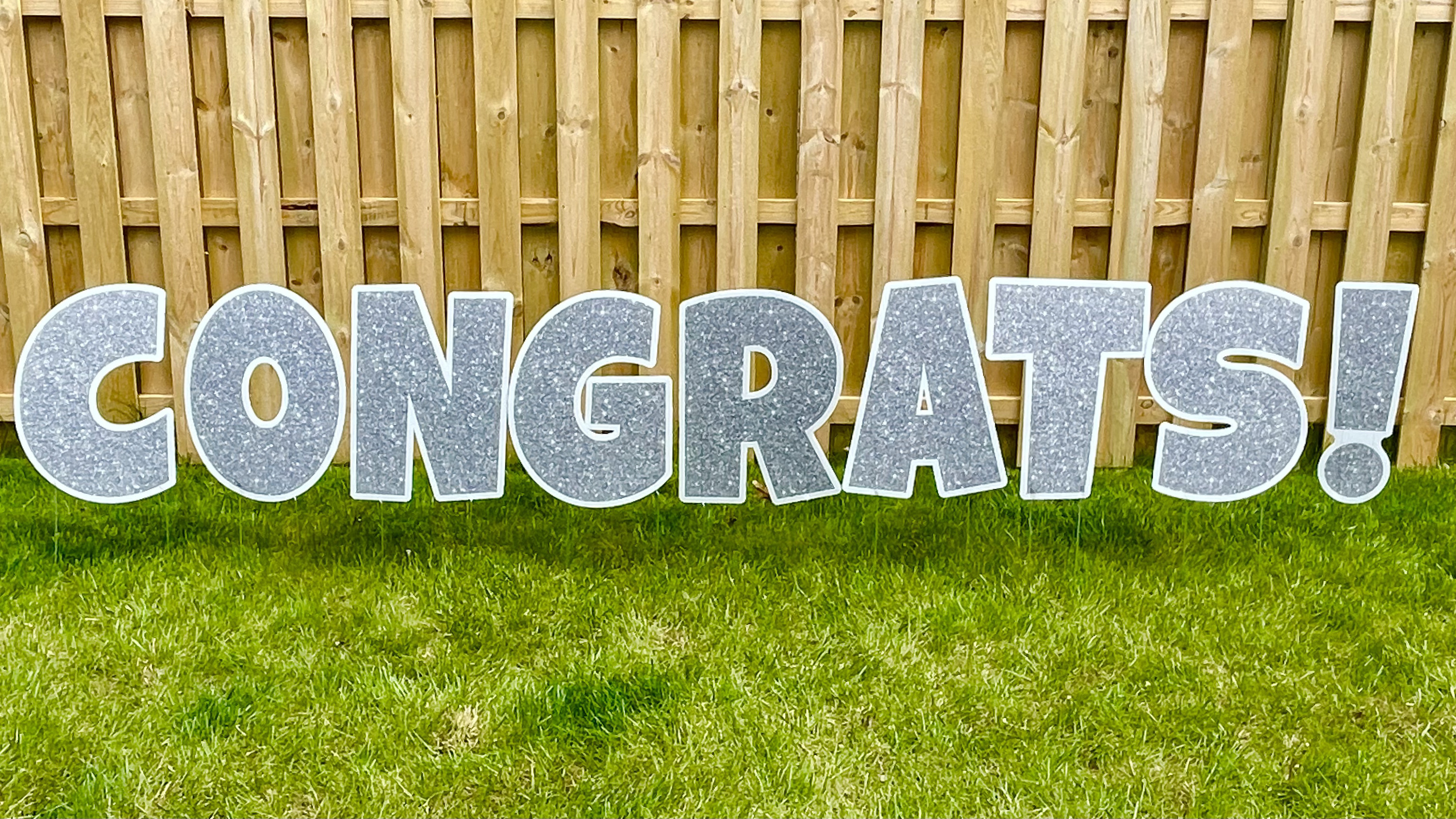 Congratulations Yard Sign Rentals
When you want to Congratulate someone on a special event in their life, A Congratulations Yard Sign Rental or our yard cards from SMart Yard Signs in Indianapolis is the best option to make their moment a big deal! Surprise for Promotions, Engagements, Being Cancer-Free, A New Home, or any other Big Moment in your life with an eye-catching Congratulations Yard Sign Rental. SMart Yard Signs is the best option to draw attention to your big moment in a big way through a Dazzling Display. Click below to view our Congratulations Yard art Word Sets.
Congratulations Yard Sign Rentals
Make Your Special Occasion A Memory with a Yard Greetings Rental from SMart Yard Signs
Smart Yard Signs is a locally owned and operated company. We service Indianapolis, Indiana, Beech Grove, Carmel, Fishers, Greenwood, and More!
You may see our signs at Heritage Christian School, Perry Meridian High School, Cathedral High School, Fishers High School, or Greenwood High School. We strive to provide personal service for each customer that books custom signs for their special occasion.
We operate throughout Indianapolis and surrounding areas. Smart Yard Signs is committed to making booking a Yard Sign Rental in Indianapolis and the surrounding cities a simple process! Choose your yard signs and Word Set as the centerpiece for your Celebration Sign and Add it to your Cart. Then, shop our flair and add the perfect accents to fit your event! No forms to fill out, and wait for a response!
Don't want to Customize your Yard Sign Rental? Head to our Pre-made Sets to pick a Pre-made Yard Sign Rental Based on the Type of Occasion you are Celebrating! If filling out forms is your preference for your yard signs or if you are looking for a Custom Sign or Special Order, Please visit our Contact Us Section at the top right of the page! Fill out the form and be sure to include What you are Celebrating, when your Event is, what Custom Phrase you would like, and the best way to contact you, and we will get you prices on delivery and a price for your Indianapolis yard Signs!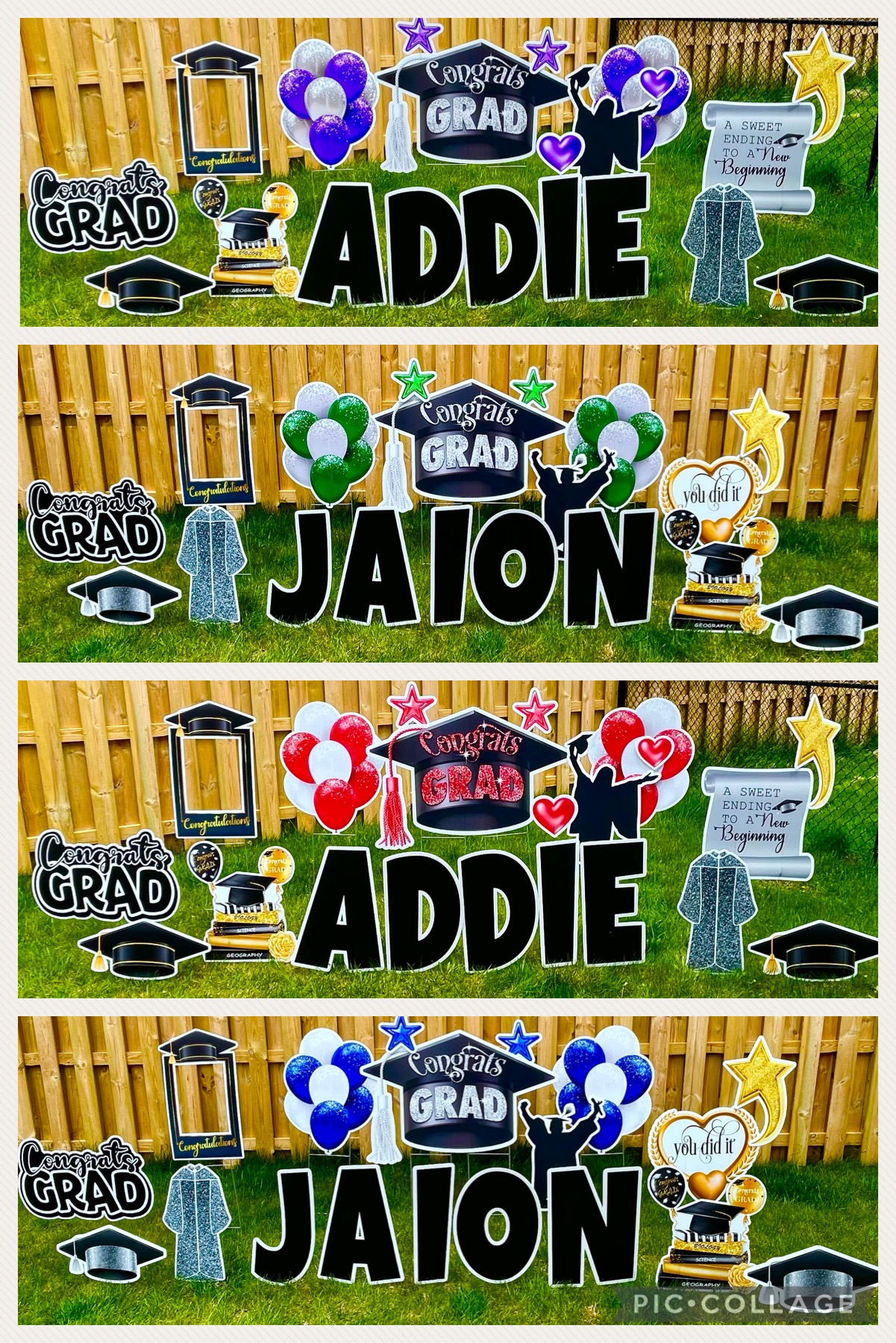 We offer a range of various yard signs to celebrate your special day in Indianapolis. From Birthdays to Baby Showers, we are here to help you Celebrate in Style with our well-detailed graphics! For Custom Yard Sign Rental Orders, please visit our Contact Us Section at the top of the page.
Fill out the form and be sure to include What you are Celebrating, when your Event is, what Custom Phrase you would like, and the best way to get in contact with You! Feel free to send us an email using the Contact Us Page or give us a call at 812-624-5640 with any questions about Indianapolis signs!
Greeting Ideas
Browse pictures of our stunning yard greetings and get ideas for your perfect celebration.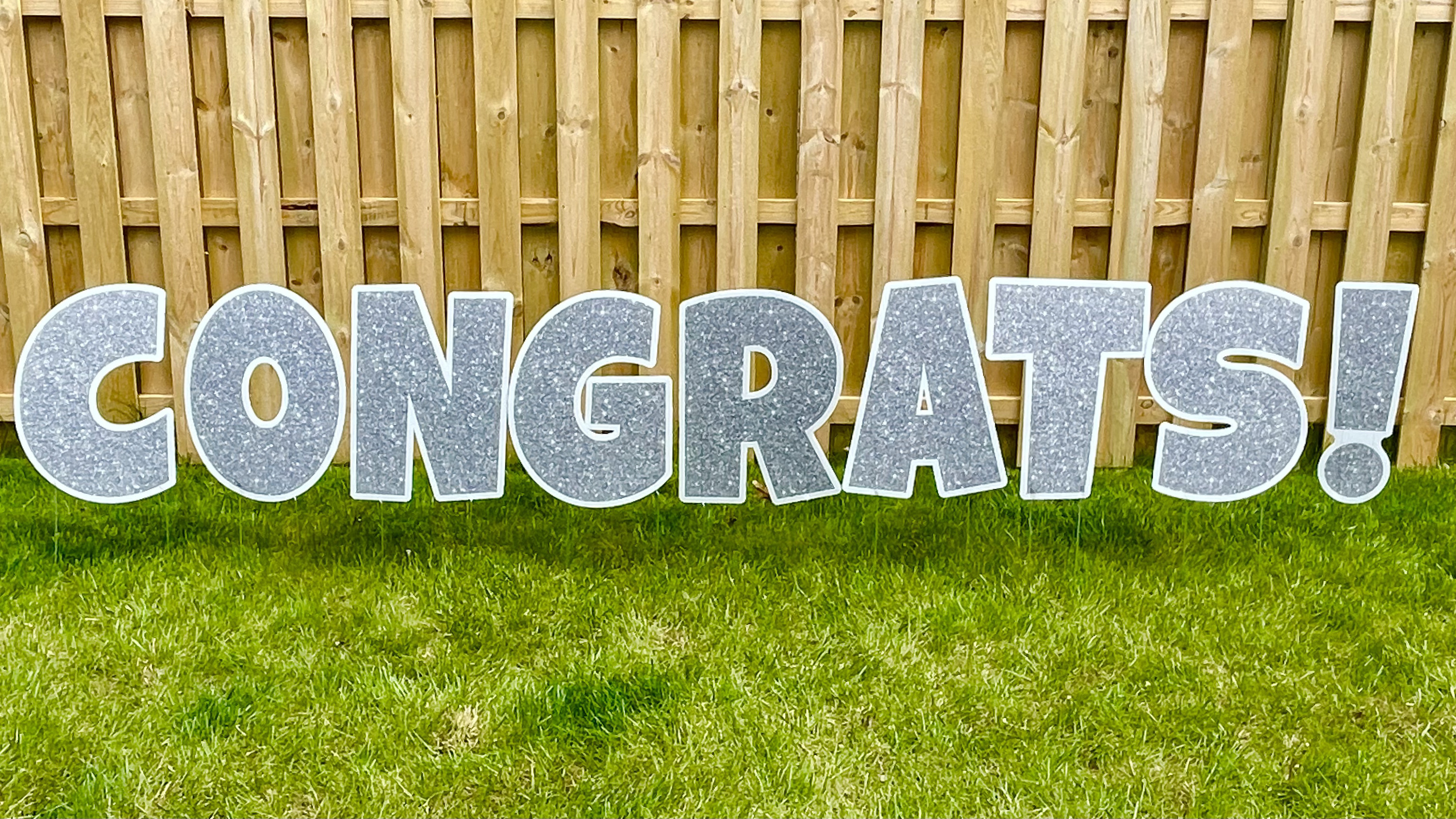 Reviews
See what our customers are saying about us.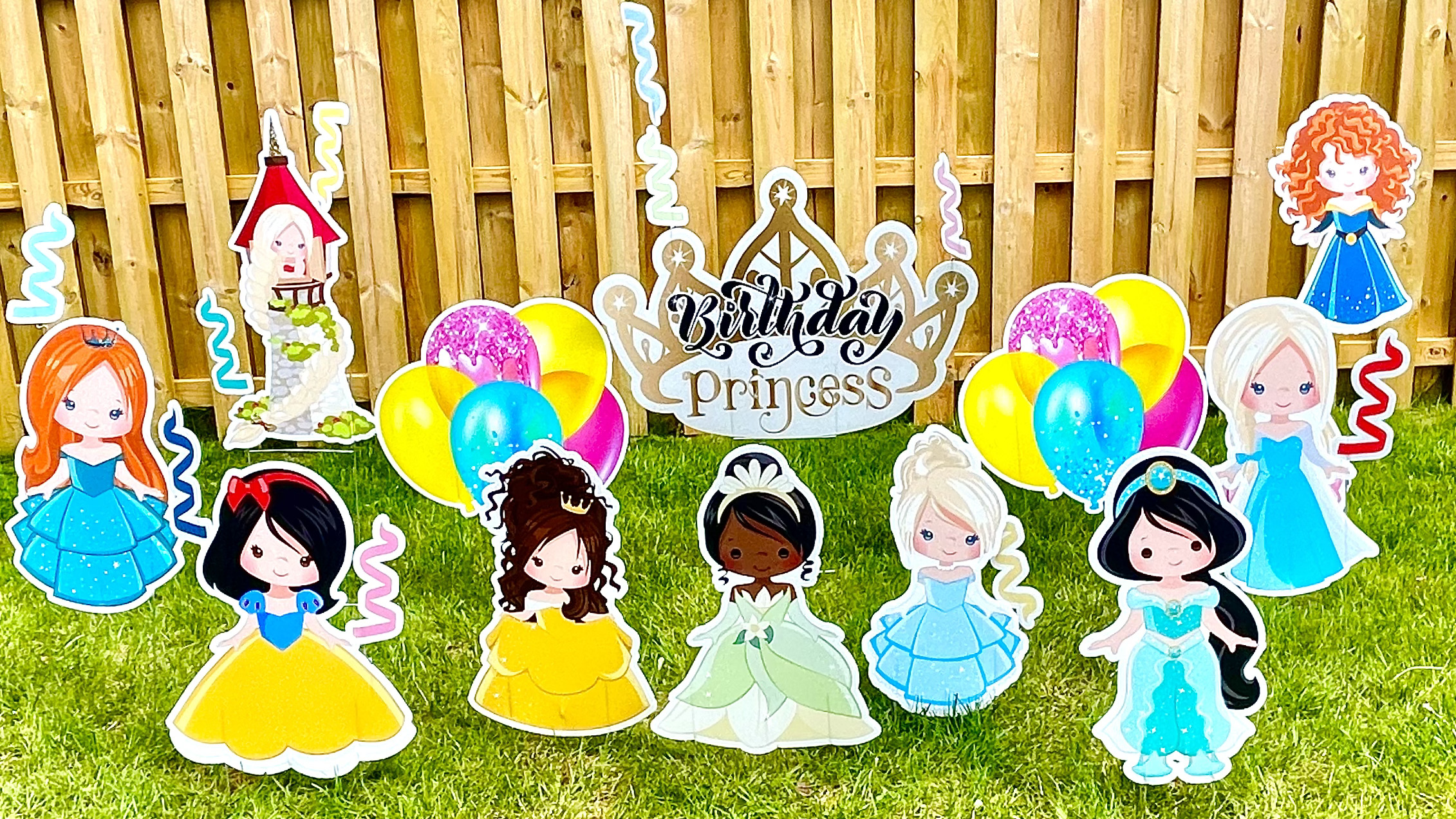 Our Mission
Learn more about what makes us so special.